FIRST: 100 Years of Women in Law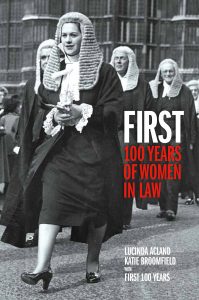 Marking the centenary of the 1919 Sex Disqualification (Removal) Act, FIRST tells the story of women in law in their first 100 years of practice. From early campaigners through to the first women solicitors, barristers, magistrates and judges, the book tells the often untold stories of the pioneers, reformers and influencers who paved the way, revealing the barriers they faced, their challenges and triumphs. It offers a unique insight into how women have made their way in a profession still dominated by men and looks ahead to the prospects for women in law in the next 100 years.

The Authors:
Lucinda Acland; is the host of the First 100 Years podcast series celebrating the centenary of women in law. She has over 25 years' experience in the legal sector as a solicitor and litigation support/IT lawyer, a creator of online CPD courses, and as the community manager at Obelisk Support, training and supporting returners back into flexible legal work.
Katie Broomfield is a barrister and historian. Based in the History Department at Royal Holloway, University of London, she is currently researching the opening of the legal profession to women in 1919. She is a contributor to the Oxford Dictionary of National Biography, the First 100 Years Podcast series and the creator of an exhibition Celebrating the Centenary of Women Lawyers.
"This book was made possible by the volume of original material recorded and collected over the last five years by the First 100 Years project. There is no archive like it to help women in law to place themselves in history. This book is an excellent physical gift to the legal profession and will continue to inspire future generations of women in the profession." – Dana Denis-Smith Founder, First 100 Years
Available now for our pre-launch price of £15!

To order our book, please complete the form below.

Our book launch will take place on Friday 22nd November at the Law Society Library, in partnership with Cambridge Women in Law. Come along to get your copy at a special price on the night! Find out more and book your place.

Testimonials:

"First 100 Years of Women in Law is a fascinating, beautiful, inspirational and, above all, important portrait of the first century of female empowerment in the legal system. Charting through photographs and historical artefacts the milestones since the Sex Disqualification (Removal) Act 1919 put the first cracks in the glass ceiling of the legal profession, this book offers not only a unique celebration of the progress achieved by women in the law, but a vital reminder of how much work there still is to do." – The Secret Barrister

"This is a vital and stunning piece of our history. Law is the bedrock of a nation and the absence of women in the system of law was a gross impediment to justice. This book is a triumphant celebration of all the struggles that breached the walls of exclusion. Brilliant!" – Baroness Kennedy

"This inspiring book reflects on the first century that women have been able to practice as barristers, solicitors, judges and jurors, allowing us to celebrate their successes, to hear their stories and to locate ourselves within this dynamic and ever-changing profession as we look to the future…It's an important contribution to the change that is still desperately needed in the legal profession." – Cherie Blair

"This fascinating and vital book shines a spotlight on those women – often forgotten – who forged a path into the law when it was near impossible to do so. Reading it has made it clear how grateful I am to them for enabling me to stand on their shoulders and join the profession I love." – Sarah Langford

"A fascinating and indispensable insight into the female pioneers of the legal profession." – Caroline Criado-Perez