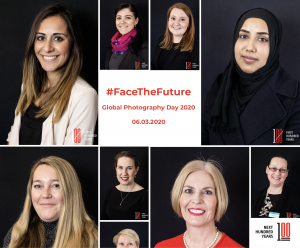 Would you like to become a part of the First 100 Years archive in our photography project?
We have been busy documenting the last 100 years of women in law through our digital museum and video biographies.
Last year, as part of our centenary celebrations, we took a snapshot of the face of women in law today with our #100faces100years photography campaign. We photographed women in the legal profession at The Law Society of England and Wales in London and Cardiff, The Law Society of Scotland in Edinburgh, and The Law Society of Northern Ireland in Belfast on 8th March 2019, International Women's Day, where we photographed over 800 women in the legal profession. You can see the photograph gallery here.
After the success of last year's photography day, we are back for 2020 with bigger and bolder aspirations! This year, the #FaceTheFuture photography day will be going global and regional to include as many women in the legal profession as possible.
Join us on Thursday 5th or Friday 6th March (location dependent!) to have your free headshot taken and be a part of the Next 100 Years!
To find your closest photography pop up and learn more about this year's #FaceTheFuture campaign, go to our new Next 100 Years website at www.next100years.org.uk/facethefuture