On the 17th May, First 100 Years travelled to Manchester for the first of our On the Road events, hosted by DLA Piper. The evening proved to be a fascinating and thought-provoking conversation about how to increase female leadership in the legal sector. While women's access to the profession has changed drastically, why is this not yet reflected at the higher echelons of the profession? How can the next generation get to the top and stay there?
The panel consisted of Her Honour Judge Sarah Singleton QC, who practised family law on the Northern Circuit for over 20 years; Lauren Riley, who is a qualified solicitor and now the founder of The Link App; Professor Julia Rouse, leader of the Generating Routes for Women's Leadership (GROWL) Project; and Eve Holt, former solicitor and the director and co-founder of Happen Together CIC. The conversation was facilitated by Dana Denis-Smith, CEO of Obelisk Support and founder of First 100 Years.
What is leadership?
The conversation began with a discussion of the definitions of leadership, and what leadership entails. Eve argued that current definitions of leadership are too masculine. She argued that there needs to be a cultural shift in how leadership is thought of, moving away from an authoritarian figure telling people what to do, to a more collective definition. Dana said that leaders have to have good management skills, and not just technical skills.
Sarah remarked that in family law, the concept of 'parental rights' has been abandoned in favour of 'parental responsibility', and this conception of leadership, as responsibility rather than power, should be applied elsewhere. She argued:
"Leadership should be seen as something you do for people rather than something you do to people."
Flexible working and the work/life balance
The pressures on work/life balance are also a barrier to diversity in leadership. Julia discussed how the expectations on leaders to be available 24/7 can dissuade women, who are more likely to take on household work and caring duties. She believes that this problem is particularly bad in the legal sector. Consultant doctors are an example of an alternative model of an expert/client relationship to lawyers and their clients. There are different expectations in this relationship, as doctors are not expected to be available at all times, instead they work collectively as part of a team.
Increasing the numbers of women in leadership will have to involve real changes in organisations. It was agreed that flexible working, helped by technological advances, could improve diversity in the legal sector. However, Julia warned that flexible working will continue to have career penalties until it becomes normal and everyone does it, including men. Sarah argued that while companies now have to publish their gender pay gap data, they should also have to say whether they allow flexible working. Julia said that the career penalty of part-time working is easily calculated, and companies should seek to reduce that using targets.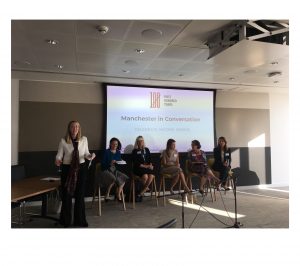 Mentoring and sponsorship
Mentoring and sponsorship were also discussed as potential support structures for women. Julia said that after having children, it's particularly important for women to have sponsors, people to vouch for their abilities. While Eve said there was a danger in mentoring because everyone's path is unique, Lauren said that you can support women at a more granular level, through Whatsapp chats or informal groups. Role models can also be valuable. Sarah argued that more men should see women as their role models, and men should be allowed to show vulnerability. Lauren said that mentors didn't need to be partners, but everyone could be a role model to somebody else.
The conversation in Manchester was a fascinating discussion on the organisational and cultural barriers to diverse leadership in the legal sector. While the problems seem difficult to tackle, the panel was generally optimistic about the chances that diversity will improve in the future.
Written by Annabel Twose, Project Coordinator of First 100 Years