On Thursday 21st March, First 100 Years was proud to sponsor 10 students to attend the Association of Women Judges' event 'Celebrating the contribution of great women judges to our legal life' at the Supreme Court. It was an inspiring evening to learn about the lives and careers of Lady Hale, Baroness Butler-Sloss and Justice Teresa Doherty CBE. Here are the thoughts of some of those students who came along.
"Year 2019 marks 100 years since women began to practice law as a profession. We are now able to refer to women judges as 'My Lady' and to women lawyers as 'Ma'am' or 'Ms'. But this was not the way in 1919 and the early years of 'women in law'. Women were referred to as 'My Lord' and 'Mr' regardless of their gender. During the 'Women in Law' talk organised by UK Association of Women Judges, Baroness Elizabeth Butler-Sloss highlighted that things had to change and asked, ''Did I really have to be called 'Lord Justice'?''. She spoke about Lady Brenda Hale appearing in a newspaper article in the United Stated at that time stating that 'the title was preposterous'. It was them who first addressed this issue and we now have them to thank for this very much needed change. During the event, a lot of cases in which women faced discrimination were discussed. Personally, I was most impressed by the case mentioned by Justice Teresa Doherty, she spoke about the time when she was called to help 6 women, including an 8.5months pregnant woman, who were arrested by a 'riot squad' due to 'playing an illegal game'. The truth was the women were playing cards at the back of their house. The women stated they will plead guilty, but Justice Doherty stated, 'No, you will not.' She then managed to win the case in the court and the 6 women were released."
Klaudia Otoka, University of Surrey Law Student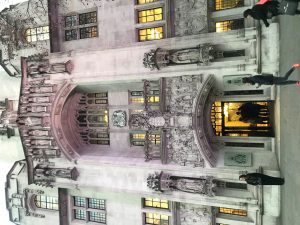 "Although, the event was filled with excellent thoughts, Baroness Elizabeth Butler-Sloss has pointed out one very important thing that we tend to overlook nowadays. She explained that feminism has become very complex and tends to rely on many long reasonings for its existence, however, there is one simple reason we have behind feminism. Simply speaking our population is made of both women and men. Therefore, we have a right to be judged by both women and men, as well as represented in many fields by women and men. It is that simple. I think it is a great clarification of such a complex subject and if we simplify many issues this way, and in this case when talking about feminism, more men will be likely to see the clear logic behind our actions."
Sandra Mikosinska
"Controversially, Baroness Butler-Sloss did not describe herself as a feminist. This, in my opinion, is because the word is subjective. Lady Hale quite proudly said "I have never hesitated to call myself a feminist… women are, and should be, equal to men… everybody in this room should be a feminist. Including you, Baroness Butler-Sloss!" I regret that I had not heard of Justice Doherty prior to the event, as she has done some extraordinary work for human and women's rights around the world. She spoke of the abuse that women encountered in Papua New Guinea and Sierra Leone. When asked who inspires her, she spoke of living in Northern Ireland during the troubles and said that "The women I admire and want to protect are those working in factories and supporting their families." I studied law because I wanted to make a real difference to people's lives and represent those who were not able to speak up for themselves. As a trainee solicitor, it has become easy to assume that I am not able to make a real difference, and to feel distanced from the prominent figures who have influenced this profession. However, having had the opportunity to see Baroness Butler-Sloss, Lady Hale and Justice Teresa Doherty in person, and to hear about the struggles that they faced in their own careers, I feel more motivated than ever. Whoever said "never meet your heroes" clearly had not met these three women."
Katie Emms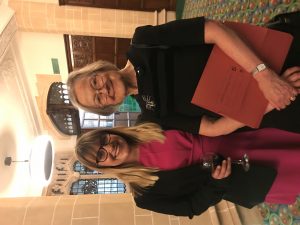 "Something that really struck me from the talk was the importance that all three judges placed upon inter-women relationships and networks as contributing to their greatest successes. Lady Hale said that something that the second woman in any profession realised "is how much she owed to the first", and thanked Baroness Butler-Sloss (the first woman in the Court of Appeal to her second) for breaking the barriers which allowed her to take her place there. The support that they had offered each other as Court of Appeal judges was clearly palpable. Teresa Doherty further cited as her inspiration for her tireless work against discrimination was the women themselves. There are so many forces in society which seek to pit women against each other and make them rivals, and I was really struck how the three truly impressive women demonstrated how when women work together how powerful they can be."
Imogen Sadler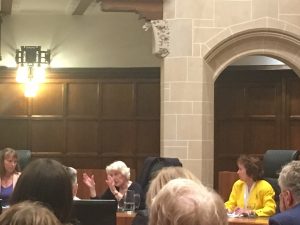 "The lecture was incredibly insightful and engaging. I enjoyed hearing from three accomplished women judges who demonstrated a lifelong passion for the law and ensuring it is upheld. Each of them – Lady Hale, Baroness Butler-Sloss and Justice Teresa Doherty – offered a unique perspective into what is indubitably difficult work. I enjoyed listening to Justice Doherty describe in perfect detail some of the work she has carried out in Sierra Leone and Papua New Guinea, in particular a story about villagers who had been arrested for playing cards when there was no such prohibition in place. I was also honoured to meet and speak to Lady Hale who was every bit as a kind, knowledgeable and engaging as in many of her judgments I have read as an undergraduate. When speaking on being a woman in a male dominated field of work, Lady Hale responded that there were three options: 'to emulate a man, to stick to a low profile as a woman, or to visibly be a woman and be all right.' I am most thankful to The First 100 Years project and the Association of Women Judges for the opportunity to attend – it was a great evening."
Naomy Kuma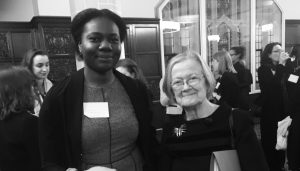 We are always looking to involve students in the project, so please email us on
[email protected]
to register your interest in hearing about future events.