My maternal grandparents, Elsie Waugh and Stanley Turner, married in 1932, and their first child, a boy, was born in 1940. They were living in Willesden when in May of the following year, in the thick of the Second World War, Stanley joined the Royal Navy, leaving his job as clerk in the Lincoln's Inn chambers of Charles Romer, who had taken silk in 1937. Elsie took over as Romer's clerk. Since the start of the war, a number of women had gone to work as barristers' clerks, and in Lincoln's Inn at the time there were seven, including five who were "keeping warm" the jobs left by their husbands in the services. Three years later, however, Charles Romer became a judge in the Chancery Division, and Elsie became the first woman to be appointed clerk to a judge.
As she packed up her books and papers and prepared to move from the Lincoln's Inn chambers to her new quarters in the Law Courts, reporters from the Evening Standard, the Daily Mail and the Daily Mirror asked eager questions about "guarded resentment" on the part of male clerks, which seemed to boil down to the fact that the Civil Service salary for the post was £540, set on the assumption that the holder would be a man. Those questioned agreed with the Daily Mail reporter that she had "efficiently carried out her husband's duties" for the past three years, and so her ability was not in question. Elsie herself, it was reported, could see no reason for the fuss and newspaper attention; nor was she flattered by the interest. "I am no legal expert and claim no knowledge of the complex cases I hear in court," the Standard quotes her as saying. "The work is just a matter of common sense. No more." On the proposed reduction of her salary by £100 because of her sex, she remarked: "I do not feel strongly feminist about that."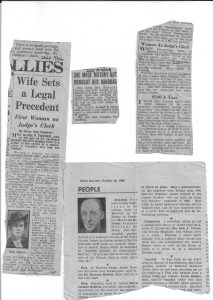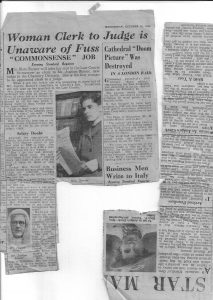 The rule that women should not appear hatless in court had been dropped in 1943, and when the journalists pressed her on dress, she replied sensibly that she would wear "just my ordinary, everyday clothes", and a hat or not "just as convenience dictates". By nightfall they were still pestering her, but she remained calm. "This is my war work. I have not the faintest notion whether I shall carry on afterwards. It is not a post requiring any great legal knowledge."
Elsie accompanied him to the House of Lords to be sworn in to the Chancery Division, and the photograph of them together on that day shows Romer, in round spectacles, sporting his new judicial splendour: long wig, ermine-trimmed robes, black stockings and gleaming patent leather buckled pumps. Elsie, a pretty, un-fussed 32-year-old, wears a "smartly cut black costume, black hat and white tailored blouse". She carries a handbag and a box file, and is hiding Romer's umbrella behind one leg, because, she told my mother, she felt its presence would ruin the photograph.
At the end of the war, Stanley returned safe and sound, and resumed his work. Soon afterwards, Elsie had my mother, and didn't undertake paid work again. On her eightieth birthday, she moved to Dublin, where she died in 1998.
Written by Antonia Hart